I told quite a few people that I'd update my blog with our London Trip experience, so now that it's been over a month, I'm finally getting around to it. I'll add a few pictures to this post, but most of them will be in our family photo website.
First, it was a long plane ride. We finally arrived in London on Sunday in the morning. The rest of our group were planned to arrive 30 minutes after us on a separate flight. We had received a text before we left the US though that their first flight was delayed, so they may not make it. We were able to get on the Internet in the airport and got a message that they did make their flight, but it was also delayed.  So we waited another extra hour or so, and they were able to meet up with us.
We got to our hotel called "The California" and got settled in. We then got our Oyster cards, which allowed us to ride "the tube" (the subway in London) for our week stay. We were then able to go over to Baker Street to buy phones, and walk past the Sherlock Holmes museum/house. One of the things I wanted to try out was to use my cell phone there, so I bought a SIM card for £5, popped it in my Galaxy S5, and got it up and running with cell service and Internet access (after a little configuration). So, as a techie, this was one of the things I was excited about trying out.
After that, we went over to St. Paul's Cathedral for an organ recital that was going on that night. We ended up having a while before the recital, so we walked across the Millennial bridge and were able to go into a Christmas market that was set up there. We had some roasted nuts from a street vendor, and had fun checking out a few of the other stores.  The recital was only about a half hour, but it was cool to be inside under the dome and listen to the organ echo throughout the cathedral. We were pretty tired, so I have to admit, I fell asleep for a little bit of it 😉 then we traveled back to our hotel for the night.
For our second day, we started off by walking by Big Ben, which is part of the palace of Westminster. We walked through a park over to Buckingham Palace. Jeb and Patrick happy that things were not as busy during the winter as it normally was during the spring/summer when they usually visit London.  I was glad, because there were quite a few people, and I don't know how well I would have handled having a ton more people around.
We then made our way down "The Mall" toward Trafalgar Square. On our walk, we were able to see a part of what I think is the horse guard, which was basically a bunch of guards on horses that made a ride down the Mall and back up around the palace.
At Trafalgar Square, we split up and were able to visit the National Gallery and Mikki and I ate lunch in the Crypt of one of the Cathedrals nearby. It was good food, but kind of weird to think about where we were eating.  The National Gallery was pretty cool, and we were allowed to take pictures of many of the paintings there.
After the gallery, we went back close to our hotel to the King's British Library. Most of our group only spent an hour there, but Mikki and I stayed a while longer, as the librarian in her came out. We were able to see a copy of the Magna Carta, and other cool documents.
After that, we were able to go on a good walk past the Tower of London, across the Tower Bridge, and back up by the Millennial Bridge. Below is a picture of us on Tower Bridge.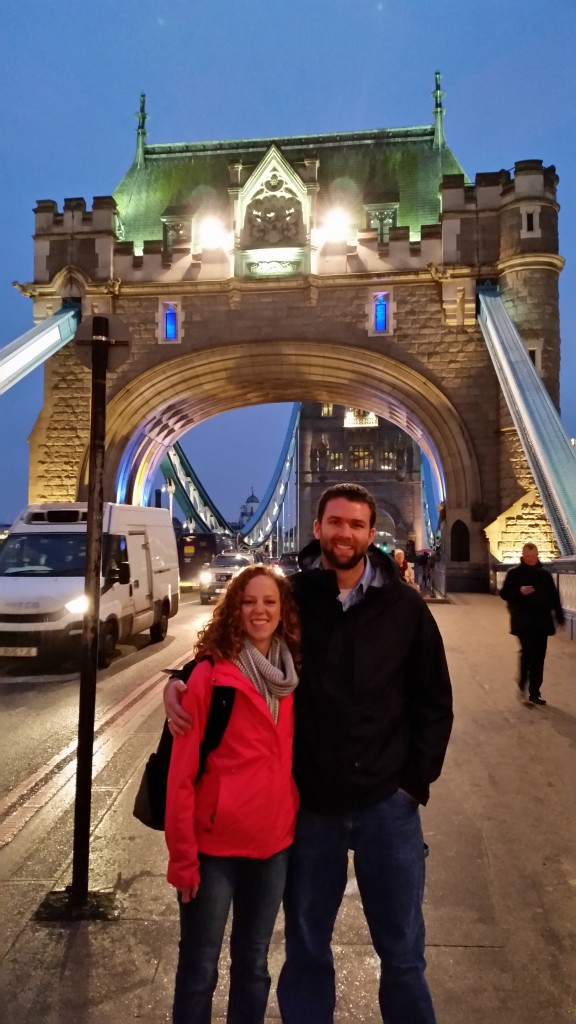 The rest of our group had a play that night, and we didn't go to it, so we went to Piccadilly Circus, which would be the equivalent of like Times Square in New York. We wandered around, up and down the streets there, and ate some good Italian food there.
Since this seems to be taking me so long to write, I'll go ahead and post this, and then add more information about our trip to subsequent posts.